January 16, 2017
Top Talent for Nottingham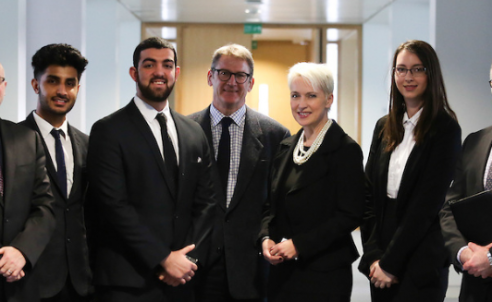 Legal recruitment specialist joins fight to retain top talent in Nottingham.
A Midlands legal recruitment expert has joined the fight to ensure that the best legal talent remains in Nottingham.

Jane Biggs, managing director of Nottingham-headquartered Bygott Biggs Legal Recruitment, along with other professionals from the city, has joined up with the #GRADS4NOTTM initiative, which was established by Nottingham Trent University, to give students a taster and experience of the local employers within Nottingham.

Led by Tony Hill and Patrick Limb QC of Ropewalk Chambers, Jane, together with local law firm partners, Alan Radford of Browne Jacobson and Julian Middleton of Freeths created a three-day business challenge which looked at how to attract and retain law graduates to Nottingham during the early stages of their career – either as a solicitor or barrister.

The challenge was so appealing that it was the one most applied for out of 90 challenges. Three law students – one Year 1, one Year 3 and one Legal Practice Course student - spent three days with each of the legal professionals in order to examine how the city could offer them a start in their legal careers.

Recent research by Nottingham Business School revealed that statistically a large number of graduates from the city's universities leave Nottingham after finishing their studies. This led to an initiative being created following discussions with local employers and the University.

Jane said: "We see many law students heading to the bright lights of the City for perceived greater remuneration when in fact salary goes a lot further locally. You're more likely to be able to buy a property here than in London - or for that matter Manchester or Leeds."

Alan Radford added: "The benefit to working locally is you are more likely to be recognised within the workplace and the broader professional community than would be the case in London, where you are often likely to be little more than a number.''

Jane added: "In Nottingham and the East Midlands, you are likely to gain exposure to better quality work and be more hands on than your equivalent counterpart in a large City firm where you may not even get to meet an actual client."

"What's more, the work life/balance is likely to be better here than in the City, especially when compared with those lawyers and trainees who are routinely expected to work through the night, so much so that some firms have sleep pods and spare shirts to hand because it happens so often."

After spending three days on the challenge, the students identified that one of the perceived difficulties to retaining talent in the region appeared to be Nottingham's image.

The professionals concluded: "We should be doing more to promote the city's benefits and we are about to embark upon an initiative to bring together other business partners from inside and outside of the legal profession to work towards this objective."

Bygott Biggs recently published a legal profession survey which showed that a third of lawyers were exploring the possibility of changing jobs, with 25 percent citing career progression as the key motivation. 

Other stand-out results from the survey reveal the fact that some 35 per cent of legal professionals now no longer aspire to partner status and that the glass ceiling remains a factor for many women.

A new survey, exploring the concept of Partnership in more depth will be published in the Spring. To take part or to receive a copy, email jane@bygott-biggs.co.uk.